Atomic Betty
Talk

0
463pages on
this wiki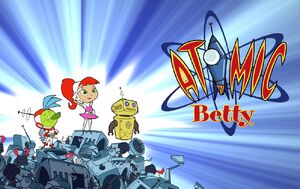 Atomic Betty is a Canadian animated series produced by Atomic Cartoons, Breakthrough Films & Television, and TeleImages Kids.   The TV series itself is the central topic of this wiki.
The show ran for three seasons (Season 3 has added the subtitle, Mission: Earth). A possible sequel series, Atomic Betty Redux, was announced, although no infomation has been avaliable.     However, Atomic Betty Redux was delayed until 2020, because the upcoming 2016 revival of the show is coming up with new changes being given.
Story
Betty is a typical adolescent who enjoys school, science-fiction movies and singing in her band, living in Moose Jaw Heights (a suburb of Moose Jaw, Saskatchewan). Unknown to most of her friends and family, however, she is also a Galactic Guardian, dedicated to interstellar peackeeping and law enforcement. As Atomic Betty, assisted by her pilot Sparky, and a robot named X-5, she confronts the evil overlord Maximus I.Q. and other intergalactic supervillains. Despite being rather unassuming on Earth, Atomic Betty is a superstar throughout the galaxy and even has her own fan club of loyal followers.
In each episode, a crisis occurs somewhere in the galaxy, usually while Betty enjoys some activity with her friends. Invariably, her bracelet begins keeping ,and she runs off alone to save the galaxy. Accompanied by her crew, Betty manages to defeat the villains before returning home (and explaining her absence).
Production
Atomic Cartoons writes and produces the animation for the series using Adobe Flash software, Tele Images Kids produces animation and voice direction for the French language version of the series, and Breakthrough Films & Television handles worldwide distribution outside of Canada (except Spain, Portugal & Andorra). Three seasons of the series have been produced to date, totaling 78 half-hour or 156 quarter-hour episodes, depending on the format shown in each market. There is also a one-hour christmas special, titled Atomic Betty: The No-L 9.
DVD releases
Warner Home Video released the first two DVD volumes of the series in October 18, 2005 in North America, which each contain 8 15-minute episodes from the first season.
Shout! Factory is licensing its rights to Atomic Cartoons & Teletoon for DVD releases of Atomic Betty, beginning in 2014.