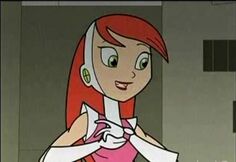 Atomic Betty Redux is a recently announced series currently in production. Atomic Cartoons made the announcement via their updated website in June 2010. The show was expected to come out in 2010, but all references and mentions were removed.
Details are unknown at this time, but it has been revealed that Betty will be "all grown up", which could mean she'll either be a teenager or an adult. She first appeared in the episode The Future Is Now!. It was the last episode before the original series "Atomic Betty" ended on January 29, 2008.
However, all references to this proposed series were removed from Atomic Cartoons' official website, and any news haven't been heard since. An upcoming revival of the pre-teen format show with an additional 4 seasons spanning 26 half-hour shows and 1 full-hour special each is in progress from Atomic Cartoons, featuring Betty in her more-tomboyish normal look wearing her new casual outfit.
Ad blocker interference detected!
Wikia is a free-to-use site that makes money from advertising. We have a modified experience for viewers using ad blockers

Wikia is not accessible if you've made further modifications. Remove the custom ad blocker rule(s) and the page will load as expected.