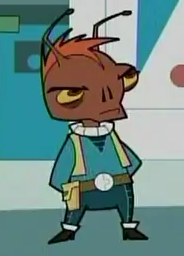 Boltar is a former Galactic Guardian who tried to steal weaponry for galactic domination, but Admiral DeGill caught him doing the deed, and Boltar was sent to prison. His name is constantly mispronounced/misspelled from Boltar to Zoltar, Koltar, Joltar, Poltar, Schmoltar, etc. In "License DeGill" (Boltar's only appearance so far), he was released and accused DeGill for lying about his heroic deeds in a battle called the Battle of the Drakus and managed to temporarily become Admiral, again attempting to conquer the universe, but was testified against by a retired Galactic Guardian named Arkan whom DeGill saved in the battle, thus proving DeGill's innocence. (License DeGill)
Ad blocker interference detected!
Wikia is a free-to-use site that makes money from advertising. We have a modified experience for viewers using ad blockers

Wikia is not accessible if you've made further modifications. Remove the custom ad blocker rule(s) and the page will load as expected.