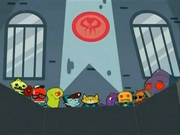 The Evil Juniors were a group of in-training super villains, taught by Maximus to become true villains, molding tomorrow's criminals into accomplished professionals every bit the equal of whatever stalwart dares stand between them and their ill-gotten gains. They were able to overpower Betty in hand-to-hand combat.
For their final exam, Maximus tricked Betty and her crew to coming to their academy to teach a class, disguising it as a normal school. Betty and X-5 were caught and suspended above a vat of acid, but Betty managed to escape by convincing the Evil Juniors that to be truly evil, they needed to double cross their teacher, Maximus.
When Maximus was caught, Betty used the distraction to break loose, Sparky (who had arrived at the scene and had also been captured) accidentally caused the vat of acid to tip, almost hitting the Evil Juniors, but Betty rescued them and took them back with them.
The Evil Juniors were then taken to Galactic Guardian Headquarters to receive a proper education. (Evil Juniors)
Trivia
Apparently, the one who speaks the most out of the Evil Juniors is a cat boy, whom is apparently the leader of the tykes whenever Maximus isn't around. He is presumably a Felinian, the same race as Maximus.
Ad blocker interference detected!
Wikia is a free-to-use site that makes money from advertising. We have a modified experience for viewers using ad blockers

Wikia is not accessible if you've made further modifications. Remove the custom ad blocker rule(s) and the page will load as expected.