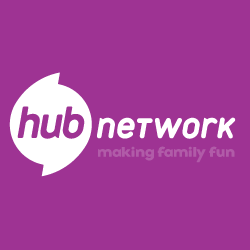 Hub Network
is a digital cable and satellite television network that was launched on October 10, 2010 as
The Hub
, airing
Atomic Betty
and many other shows in the United States. The channel, a joint-venture between both Discovery and Hasbro, airs programming primarily aimed at children, drawing largely on the libraries of both companies.
The Hub premiered the show itself in October 10, 2010, and re-runs of the show were shown until it was taken off the air, as of 2011. However, the show returned to the network in the night-owl half hour of 4:30 AM Central Standard Time in October 2012, and The No-L 9 Christmas special has been shown since 2010. From time to time, the show gets pulled, and put back, from the network, often in the overnight hours.
Discovery Communications plans to rebrand the network as Discovery Family on October 13th, 2014, after buying Hasbro's 50% stake of Hub Network. It is unlikely that the show will be on schedule, as it is not listed as part of the new Discovery Family lineup. The rebranding was completed on October 13th.
External links
Ad blocker interference detected!
Wikia is a free-to-use site that makes money from advertising. We have a modified experience for viewers using ad blockers

Wikia is not accessible if you've made further modifications. Remove the custom ad blocker rule(s) and the page will load as expected.