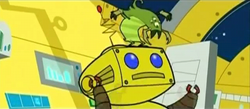 The "insect-invaders" were a force that attacked the Zanfer Galaxy. Atomic Betty's team successfully purged the Zanfer Galaxy of this attack. Though a Carrier-Beetle sneaked onto Atomic Betty's Starcruiser. The Carrier-Beetles are a species that, as X-5 said, "are known for their penchant for consuming all items of mobility", they basically eat anything that moves. The Carrier-Beetle caused havoc. It was eventually captured by Sparky, who decided to keep it as a pet, calling it, "Albert". (Toxic Talent)
The Carrier-Beetles were likely the insect-invaders mentioned by Betty. Either being part of, if the invaders were many species of alien insect, or making up the entire invasion force.
Ad blocker interference detected!
Wikia is a free-to-use site that makes money from advertising. We have a modified experience for viewers using ad blockers

Wikia is not accessible if you've made further modifications. Remove the custom ad blocker rule(s) and the page will load as expected.