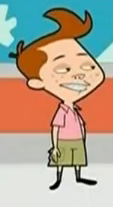 Kyle (Cole Caplan) is Betty's bratty cousin. He's self-centered, arrogant, and thinks that anything not to his liking is stupid. This usually means anything Betty or her friends like. He also has a talent for causing havoc that eventually gets him into trouble. Betty and her friends end up punishing him.
Trivia
Kyle's look changed radically during season 2.
Ad blocker interference detected!
Wikia is a free-to-use site that makes money from advertising. We have a modified experience for viewers using ad blockers

Wikia is not accessible if you've made further modifications. Remove the custom ad blocker rule(s) and the page will load as expected.