Love Bites
Season Three, Episode 314a (CA)
Air date
Jan/7/2008 (CA), Dec/5/2010 (US)
Written by
Steve Schiner
Directed by
Eddie Soriano
Episode guide
Previous
Mirror of Morganna
Next
Zulia's New Beau
"Love Bites" is a Season 3 episode of Atomic Betty.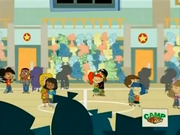 Plot
Maximus infects Betty with a love bug, and she instantly falls in love with Minimus. The bug's hitch a ride back to Earth, and the whole town erupts in Valentine's Day madness!
Full Summary
to be added
Trivia
Paloma makes an obvious cameo at the end of the episode where everyone is dancing. It is also the final time she ever makes an appearance in this series.
Whenever someone gets bitten by one of the love bugs, the bgm music for "A Feeling Called Love" plays.
This is the second episode where Betty is hypnotized. The first was in Max-Land, but it was initial. Here, she is put into a trance with no resistance.
Characters
Locations
Ad blocker interference detected!
Wikia is a free-to-use site that makes money from advertising. We have a modified experience for viewers using ad blockers

Wikia is not accessible if you've made further modifications. Remove the custom ad blocker rule(s) and the page will load as expected.