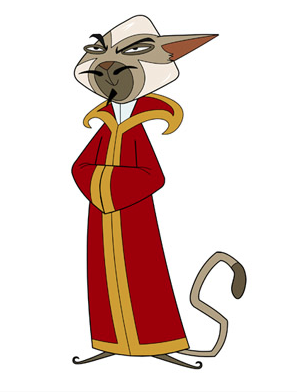 The self-proclaimed Supreme Evil Overlord of the Galaxy,
Maximus I.Q.
(voiced by
Colin Fox
) has only one driving ambition — to rule the galaxy. He serves as the main antagonist in the series. He presents enough of a danger that he is
Betty
's most annoying and frequent nemesis, with a cat-like appearance and a somewhat regal bearing (even if he's the only one who believes so). Like any other cat, however, he hates getting wet, to the point where it is enough to distract him from his schemes. He is also ill-tempered, self-important, overbearing, scheming, two-faced, abusive, selfish, and thievish.
His citadel contains various stolen items, such as a Starcruiser from "Best (Mis)Laid Plans" and a table (from when he was five) from "The Minion".
He commands a sizeable army consisting of both robot subjects and the ninja-like Blood Monks of Morbidia, and he is also one of the larger collectors of glass and rubber ducks. He loves ducks. And he is the "father" of The Betty Clones. Despite his hatred of Betty, he has occasionally teamed up with her, whether it's to foil the plans of his father, Max Sr., or, in Takes One To Know One, to recover one of his stolen ducks from the villainess Pandora.
Among Maximus's many goals is to destroy Galactic Guardian Headquarters, as well as to locate and destroy Betty's home planet, both of which he has come close to doing on numerous occasions, before being ultimately repelled by Betty every time.
His level of crime seems to vary throughout the series, as in some episodes, he commits milder crimes, such as robbing banks (Cheerleaders Of Doom), brainwashing people to buy his merchandise (Max-Land), or poaching a Piraxian Rhino egg to make an omelette (Poached Egg), whethers in other episodes, he is seen performing supervillainy on a more galactic level, such as shredding the space-time continuum of the Worm Hole of Nexius (The Great Race), torturing Coloosians with deadly sound waves (Toxic Talent), or using a giant satellite to make comets destroy planets (Self Sabotage).
His most complex plan culminates in "Galactic Guardians No More!" where he, along with every other villain in the galaxy, relinquishes his life of crime (or so it seemed) so that the Galactic Guardians would disband, due to the fact that there is no need for crimefighters if there is no crime to fight. However, when the other supervillains (particularly Infantor and Iciclia) found it difficult to pretend to be nice all the time, they committed a series of minor mis-deeds, arousing the Guardians' suspicion that perhaps this was a plot by Maximus, sending him back to the drawing board.
Relationships
Gallery
Trivia
His name is a pun on "maximum I.Q.".
It was never revealed what the I.Q. in Maximus I.Q. stands for.
It is implied in that Maximus had a bad childhood, due to his father Max Sr.'s ridicule.
He once fell in love with Zulia, Sparky's mother, but left her at the end of Slime Of The Century.
In the episode The Trouble With Triplets, he mentioned that his home planet had been Splatzy.
He is well-known as the biggest villain in the galaxy, yet he may also have a sensitive side, shown in Slime Of The Century.
Maximus' goals are similar to Lord Hater from Wander Over Yonder.
Appearances