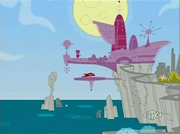 Mermidia was known as the planet of rejuvenation, and the planet to which Admiral DeGill goes for his regular half-day spa treatments, he was captured by Maximus on one of these visits and cryogenically frozen, until Betty and her crew investigated and rescued him. (Lost in Spa)
Ad blocker interference detected!
Wikia is a free-to-use site that makes money from advertising. We have a modified experience for viewers using ad blockers

Wikia is not accessible if you've made further modifications. Remove the custom ad blocker rule(s) and the page will load as expected.