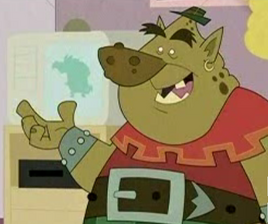 Mulock is a troll who captured people simply doing it for his own amusement in the episode Practically Joking. He later returned in the episode Vaudevillains, and kidnapped the Moosejaw Heights Junior High bus so that Sparky could teach him a new comedy act, which would allow him to pass the audition phase of a Pop Idol-like competition. At the same time, Sparky's effort to teach Mulock is a failure, and is only exasperated when X-5 (having arrived from Earth at Betty's request) criticizes Mulock of having poor comedic timing and poor delivery skills. An angry Mulock chases Betty and her crew through the 3-V station, which ends up with Betty taking the audition ticket that Regeena saved for her. Appearing on stage with Mulock, they manage to belt out a musical number (Mulock singing the odd phrase in Betty's place), which allows Mulock to pass the audition phase.
Ad blocker interference detected!
Wikia is a free-to-use site that makes money from advertising. We have a modified experience for viewers using ad blockers

Wikia is not accessible if you've made further modifications. Remove the custom ad blocker rule(s) and the page will load as expected.