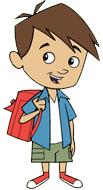 Noah Parker
(voiced by
Laurie Elliot
) is Betty's best friend. He's an honor-roll student who enjoys studying
mathematics
and writing, which makes him a target for Duncan and Penelope's
bullying
. Unlike Betty, he's not very athletic, and the only sport he seems to be any good at is baseball. However he is shown to be a skilled skateboarder as seen in various episodes. He also has a strong crush on Betty, though she seems mostly oblivious to it, and he is generally jealous of whatever boy she's with. At first, he supported his father in his attempts to expose aliens, but when he found out about Betty's secret, he tried to keep this secret from him. At first, Paloma and him had their differences because Betty paid more attention to Paloma than him and he was deeply jealous of Paloma. He is also jealous of Dylan because of Betty's crush on him and his mutual feelings for her.
Trivia
He is the only main guardian that has gone down the flashtubes once in human form (Doomsday Game) and in dog form (Noah's Bark)
Relationships
Ad blocker interference detected!
Wikia is a free-to-use site that makes money from advertising. We have a modified experience for viewers using ad blockers

Wikia is not accessible if you've made further modifications. Remove the custom ad blocker rule(s) and the page will load as expected.