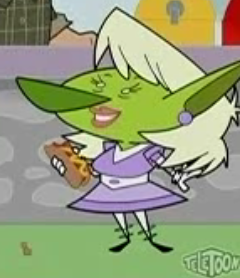 Zulia
(
Kristina Nicoll
),
Sparky
's mother, is a sweet, perfect mother figure to anyone she comes across. She's thoughtful, kind, and an incredible cook who will never let anyone leave her house hungry, but has a fiery temper and a vicious hit with kitchen utensils should anyone threaten her son. She is currently single under unknown circumstances, but is looking for another boyfriend/husband. Much to Sparky's dismay, she has a bad habit of dating (male) criminals (
Maximus
, his father
Max Sr.
,
Plutor
, and
Hopper the Chopper
). She has also made a cameo appearance at the series finale,
The Future Is Now!
. In addition to Sparky, Zulia has one other child, a
daughter
. She was mentioned in "
The X-Rays
"
Ad blocker interference detected!
Wikia is a free-to-use site that makes money from advertising. We have a modified experience for viewers using ad blockers

Wikia is not accessible if you've made further modifications. Remove the custom ad blocker rule(s) and the page will load as expected.